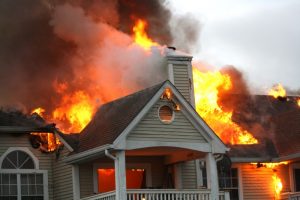 If you have a fire, the best time to call us before you have spoken to your insurance company. At Republic Claims, we often look into the claims of homeowners who have incurred partial losses due to fire damage. Also known as Adjusters on Call™, we're available 24/7 for those who need to file an insurance claim for fire and other types of damage.
Most home fires fall under one of three categories: kitchen fires, electrical fires, and fires caused by smoking. Negligence is usually a factor; this fact will be important later on when your insurance company sends someone over for an cause and origin investigation. Forgetting that something is on the stove, having improper grounding and overloaded outlets, and throwing away cigarettes without completely putting them out or falling asleep with a lit cigarette in your hand are just a few ways you might accidentally start a fire.
Fires spread in just seconds and are made worse when people use erroneous methods for putting them out; for example, some make the mistake of throwing water on a grease fire, which only splashes the oil around. The usual rule is, if one is not out of the house within two minutes, then one's life is at stake. A fire can consume an entire home within five minutes.
By the time you call Republic Claims, you've probably spoken with your insurance company and hopefully made an inventory of damaged items. These items should not be thrown away, they are part of the evidence that will help you get compensation. We also advise you to save receipts for any money spent on fire relief because your insurance company will need them to verify your losses.
After discussing your situation with us during a free consultation, you will be able to take advantage of our "Guaranteed Settlement Satisfaction" Program, where we provide claim management and help you determine any compliance issues with your insurance policy. We can also determine what inspections are necessary; this is important because fires can leave hidden damage, such as damage caused by smoke and ashes.
Get Help From Republic Claims
Republic Claims is an accredited member of the National Association of Public Insurance Adjusters, and we work according to a strict code of ethics. We don't take on legal work; we have a team of attorneys to do that for us. Accountants are also standing by to address issues like loss of rent and keep track of additional living expenses. There are hundreds of provisions in the average fire policy, but we'll help you understand them. If you need temporary relocation, we have real estate brokers who can meet you.
We'll compile your inventory, proof of loss, and other documents when the time comes to file your insurance claim. We Will negotiate with the representatives from your insurance company to receive the maximum settlement for your claim.
It's important to remember that insurance companies have their own view of the matter and only wish to pay the minimum amount of compensation. At Republic Claims, we'll see that you get the maximum settlement. If your home has been damaged through a fire, give us a call, and we'll do our best to get you through this stressful time.